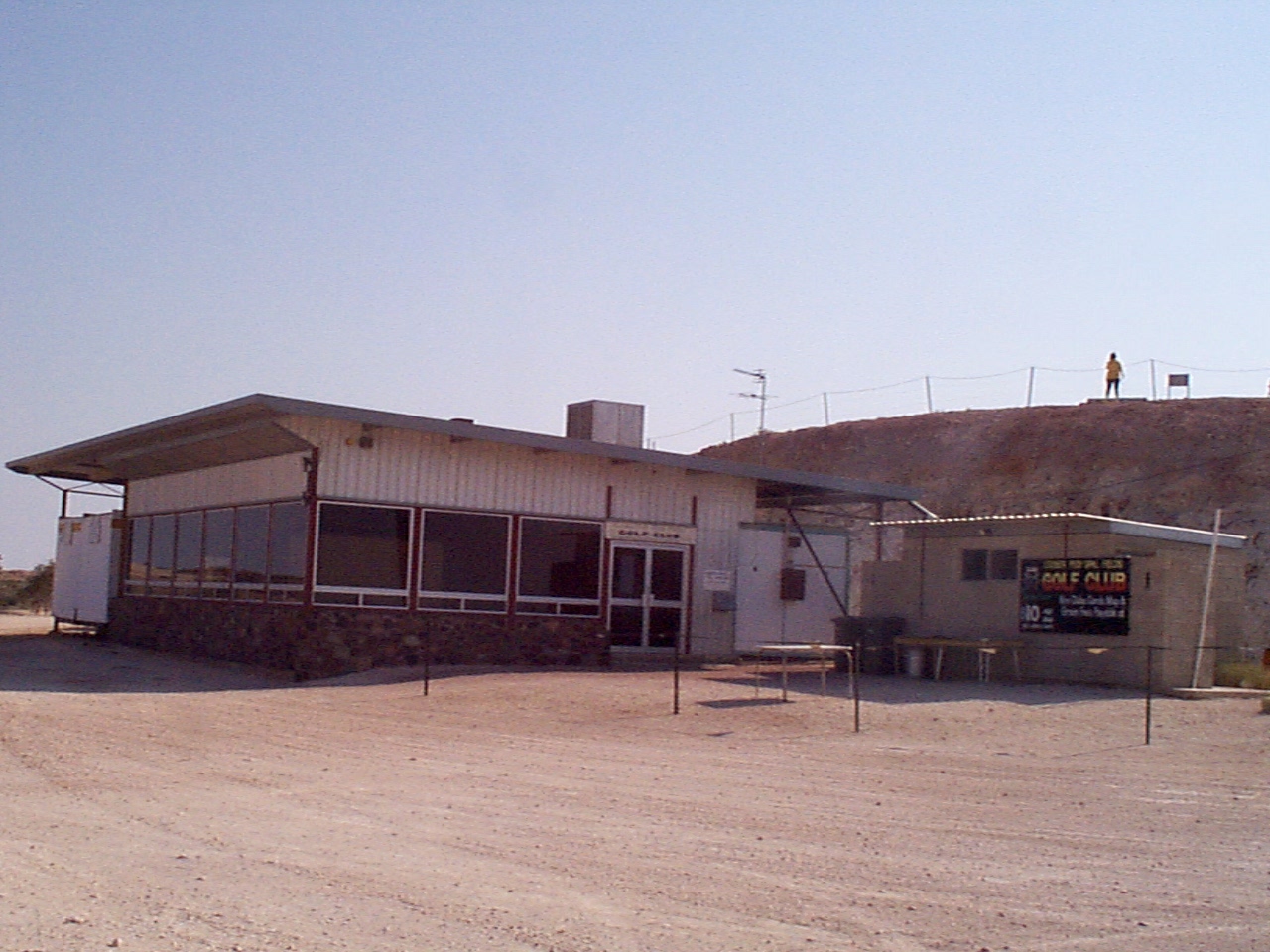 History
History of the Coober Pedy Opal Fields Golf Club
Our Golf Club was formed in 1976, over 26 years ago from the rocks and scrub around the Coober Pedy Racing Club grounds. For several years they used the racing club's shed as a clubhouse. These dedicated and determined golfers set the stage for what is now a unique 18 hole golf course, with club facilities that are used not only by club members, but are available to the whole community.
In 1996 we opened the course extensions which gave us 18 holes. The extensions were designed by Dennis Ingram, a professional golfer who had a 3 year stint as an opal miner before joining the world veteran circuit.
Our tees are topped with artificial turf to give the suitable tee off area. Our greens are called scrapes. These are common in rural South Australia. Ours are made of local quarry dust, which has been mixed with waste oil. When this has been mixed properly and well laid it gives a very suitable putting and approach surface for playing. If this weren't available, many country clubs would not be able to function.
We have no grass on the course at all and maintain our fairways by spreading the local white sandstone on rough areas, and by rolling after the very odd bouts of rain. We use 6" squares of artificial grass on the fairway being played on which to place the ball. This is supposed to protect the clubs but it is used more to tee up the ball.
Also to protect our clubs and because the course is built on very rocky ground, we have a local rule of "Rock Relief". This means if the ball comes to rest on or against rocks so that the ball cannot be moved, the ball may be dropped at the nearest point of relief, not nearer to the hole. This leads to players hoping that there may be a rock in the middle. There is some suspicion some golfers carry a rock around with them to get them out of trouble. The result of all of this is that Coober Pedy Golf Club members are easily recognizable by the many bumps and scratches and general disrepair.
We also have a lot of wind that not only blows dust, but also demands an interesting club selection. One day one may be using a 9 iron on a hole, the next day a 3 or 5 iron may be needed.
After you have played the course for a period it comes natural to be playing in these special conditions. You only then suddenly realize how strange it looks when you look up and see a mob of tourists on one of the many town tours madly taking photographs of the "mad" Coober Pedy golfers.
The unique Coober Pedy Golf course has been on many documentaries all over the world.
Links to media:
St Andrews kooky deal with Opal Fields Golf Club
Keep off the 'non-existent' grass
9 of the Worlds Most Unusual Golf Courses